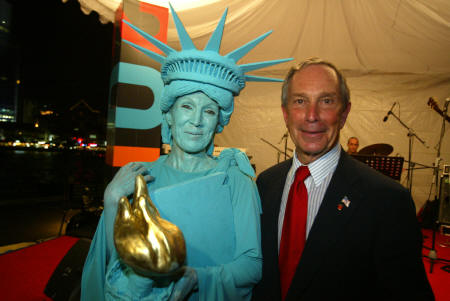 This article from MSNBC goes a long way toward explaining how policy in the Big Apple is shaped the way it is:
Without immigrants pouring into the nation's big metro areas, places such as New York, Los Angeles and Boston would be shrinking as native-born Americans move farther out.
Without immigrants, metro areas would shrink
The New York metro area, which includes the suburbs, added 1 million immigrants from 2000 to 2006. Without those immigrants, the region would have lost nearly 600,000 people.

There are about 36 million immigrants in the U.S. About one-third are in the country illegally. The Census Bureau, however, does not distinguish between legal and illegal immigrants.
N.Y. CROWDS IN
The New York metropolitan statistical area stretches from Montauk, L.I., to Pike County, Pa., and from Ocean County, N.J. to Putnam County.

From 2000 to 2006, about 1.4 million people left New York for other parts of the country either to retire or change jobs and were replaced by more than 1 million newcomers from abroad - for a net migration loss of nearly 400,000.
Compare this to census data specifically about NYC:
New federal Census figures assert that New York City's population grew by a total of 587 people between 2005 and 2006
.
9 million people by 2030, eh?
Of course, Pike County, PA, Long Island and counties in NJ are not part of NYC, but that won't stop the city from using this as proof that illegal apartments are necessary to house the illegal immigrants, which our city is welcoming with open arms. Of course, no one wants a shrinking or stagnant city even if it means allowing an underground economy and inviting terrorists to live in our own backyards. So we encourage a lot of luxury units to make up for the revenue being lost on illegal apartments. It all makes sense now. What sound fiscal and social policy the mayor is promoting. Yes, this man should be president.
Photo from savetheGOP.com