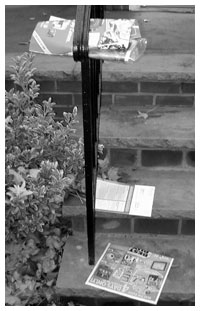 On Wednesday, June 4th (9:30am-12:30pm) the Dept of Sanitation will be holding a hearing on its proposed regulations for implementing the just-passed Litter Law ---"governing the distribution of advertisements on private property." (State mandated penalty for such littering: $250 up to $1,000.)
The rules for implementation of the Litter Law, as proposed by Dept of Sanitation (5 pages, click below -- and available on the DOS web site at nyc.gov) -- and to be commented on at or before the Public Hearing on June 4th -- are absolutely asinine.
They impose a severe burden on the property owner and are most likely never to be pursued by most homeowners!! They would require the homeowner to download a complaint affidavit form or to call 311 for one [no problem]. The homeowner would then have to get the form notarized and mail it together with the literature deposited to DOS in Brooklyn, and then be available to attend a hearing, presumably in Manhattan, if the adjudicating officer asks him to appear and testify.
Notarizing, with its costs and inconvenience, should be eliminated; the homeowner's identity can be confirmed by providing a copy of a recent tax bill or by having DOS refer to the Dept of Finance web site. How many homeowners will want to get involved if they face an appearance at a hearing in Manhattan, or elsewhere???? The law only authorizes DOS enforcement people to issue tickets when they witness the littering; the NYPD should be authorized to do so as well.
To facilitate such advertising distribution, perhaps the distributing agency could provide a "mailbox" designated for such a purpose to willing homeowners, similar to what newspaper home delivery people do. Please react in the community's favor.
Murray H. Berger
(incensed) Executive Chairman)
Kew Gardens Civic Association, Inc.
(718-263-7180 or
mhberger@aol.com
or 631-749-0743)
Lawn Litter law: Proposed rules (5 pages):
DSNY - Rules and Regulations - Rulemaking: Notices of Adoption