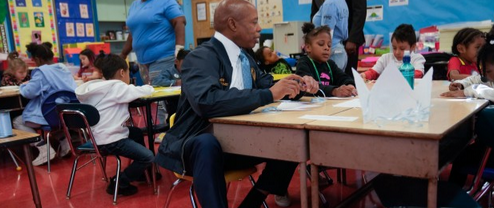 Cuts to the city's education budget will be deeply felt in public preschool and summer programs, as well as so-called "community schools" that provide extra services to families beyond what a typical school can offer, Mayor Adams' administration said Thursday.
The revised plan would shave $547 million off the Education Department's overall budget this school year — a figure that will grow to $602 million in the 2024-2025 school year and even more in the 2025-2026 year, budget documents show.
"It is about to get really tough," Schools Chancellor David Banks warned a parent-led education council on Staten Island last week. "The city is in a bad financial situation, the mayor's been saying. I don't know if people fully appreciate it."
Public schools were already headed toward fiscal woe before Adams announced cuts he blamed on the city's growing cost of housing and caring for migrants.
Many of the educational programs to be trimmed have been buoyed in recent years by federal stimulus. With the end of the pandemic, those funds are set to expire in less than a year — and the city has lacked a plan to save them.
"That money is going away. It's almost done," Banks said.
Some $120 million will be saved annually by eliminating thousands of the 37,000 unfilled slots in public preschool programs, which city officials say has been underused by parents and children. Mayor Adams' staff did not say how many of those seats were on the chopping block, but that decisions would be made with education officials over the coming year.
The Adams administration is also cutting $18 million from community schools over the next two years. Community schools partner with local organizations to provide services not only to students, but their whole families. While kids receive healthcare and mental health counseling, parents can take adult education classes and other services.