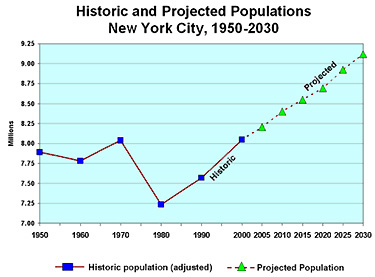 In better times, city officials banked on a population boom, but the recession has some urban planners saying the Bloomberg administration may need to reconsider its rosy estimate of a city of 9.1 million people in 2030.

Expectations of a population spike were buoyed by massive construction projects such as the troubled Hudson and Atlantic yards.

"The downturn in the real estate market signals that the city's population is not likely to increase in the near-term future," said Tom Angotti of Hunter College's Center for Community Planning and Development.

The city released its estimate two years ago in the belief that immigration and more people choosing to stay in the city would aid growth. The administration cited its projection when discussing long-term plans for growth in infrastructure, energy, and housing.
Plans for population growth may be off
See previously:
Is PlaNYC's growth prediction full of crap?