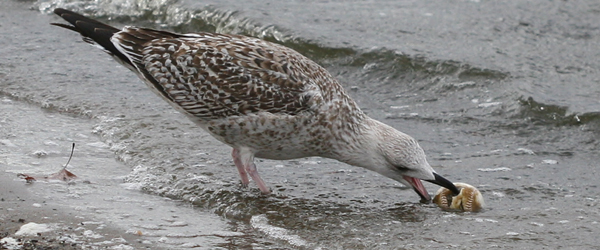 From 10,000 Birds:
On this blustery day I spent my morning walking across Queens. Well, not all the way across Queens, but across a goodly portion of it, and it was definitely worth the slightly sore back, cold body, and soaking feet. I was out of the house at about twenty after seven and caught the Q46 bus east on Union Turnpike to the Q65 bus running north on 164th St. to Kissena Park.
Walk in the Parks(s)
The next park on my route was the Queens Botanical Gardens and it was packed with a host of folks doing some kind of exercises (maybe Tai Chi?). The bird life was lacking so I continued on my way to Flushing Meadows Park where soccer players were predominant. I did manage to track down a bunch of American Coots, some Ruddy Ducks, and a Pied-billed Grebe on Meadow Lake, as well as a whole hoard of gulls. One gull in particular caught my eye, a juvenile Great Black-backed Gull, because it was picking up every object that washed up as if to see if it tasted good. If another gull showed interest in its objects the juvenile would fiercely defend them. I got shots of it with a corn cob and a baseball, but it also played around with a rock and some sticks.