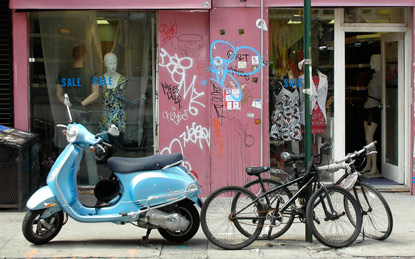 In the first three months of this year, scooter sales nationwide rose 24 percent, and according to the Motorcycle Industry Council, a national trade association, scooter sales in New York City, Long Island, and northern New Jersey grew 310 percent from 1996 to 2005.

With that rise in popularity, scooter riders, or "scooterists," are becoming a more vocal constituency, adding their concerns to the debate over street space, parking and rights to the road that has long served as the proving ground for transportation decisions in New York City.

Naturally, that increase in volume brings boosters and bashers. Many claim that the personal conveyances, which can go 70 to 100 miles on a single gallon of gas, are a long overdue addition to New York City streets, while others point to the dangers to riders, pedestrians and cyclists.

Making Way for New York's Scooter Surge