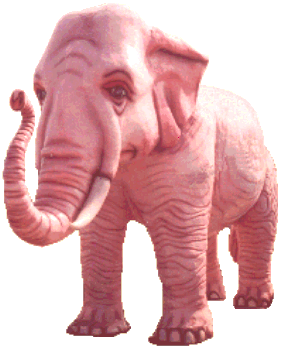 This came in from an anonymous source:
"The Queens County Republican Party had their executive board meeting last night. State Senator Serphin Maltese announced that he was stepping down as chair before the expiration of his term in September. He recommended that Vice Chairman Phil Ragusa be appointed by the board in the interim.
After hearing the announcement, Dennis Gallagher turned a brighter shade of pink, stood up and ranted about how he should have been notified about this beforehand since he is the only Republican city councilmember in Queens County; that he was blindsided. When the vote was taken an obviously irate Gallagher abstained along with two others who have not been identified. Ragusa was elected by an overwhelming margin. If Gallagher had known of Maltese's plan to resign the chairmanship beforehand he could've at least tried to lobby for someone close to him to take over. Word has it that Ragusa is not fond of Gallagher.
The timing of Maltese's decision was surprising but some GOP'ers had predicted the Senator's resignation after his narrow victory over an unknown Democrat in November. At one point during the election night tallying when it appeared that Maltese had lost the election, many Maltese supporters grew livid after witnessing Gallagher and his attorney smiling from ear to ear.
The underlying rift between Maltese and Gallagher was now split wide open. The once close allies were now adversaries. To make matters worse Maltese was overheard saying that he thought Gallagher had gone off the deep end in
his battle with a large and popular civic association
and
a well-liked local Republican
who had contemplated running for office against a Democrat friend of his. One insider said the party was embarrassed by the numerous letters sent by Gallagher cronies to local newspapers attacking neighborhood volunteers while lauding Gallagher. "It was like he was trying to make Queens Republicans look bad," said a person close to Maltese.
Add in Gallagher's notorious dealings with Melinda Katz and other unpopular Democrats (the good ones all stay as far away from him as possible), and his close relationship with the Parkside Group, a Dem lobbying firm, and people were starting to wonder which party this guy is really more loyal to. So it's not surprising that Gallagher was the last to hear of Maltese's resignation plan.
The fact that Gallagher
took money from disgraced Assemblyman Brian McLaughlin
is another big reason for the tension.
Speculation is that if the Republicans don't flat out dump Gallagher, he'll bolt to the donkey party anyway. However, he likely won't be welcome there either because of
his checkered past
. This guy actually sold pornography out of a Catholic high school! As Chairman of the Board of the high school, Maltese took the heat for Gallagher's lack of morals when Serph's opponent used it against him in the last election.
With Gallagher's growing collection of skeletons bulging from his closet, it's obvious that the Dems aren't too keen on adopting him. His liabilities are insurmountable."
And here we thought the groundhog would have the rudest awakening this month...
Pink elephant from greatdreams.com