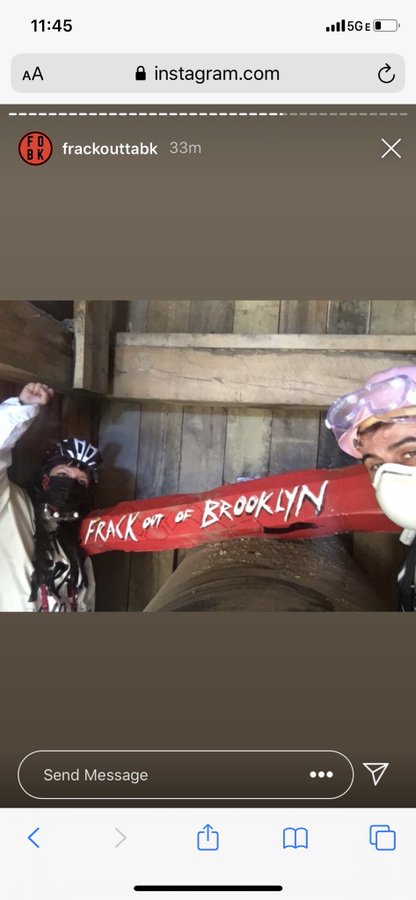 Police arrested four protesters who locked themselves to a controversial National Grid fracked gas pipeline construction site in Williamsburg on Thursday morning.
Two environmental advocates fastened each other to the underground tube for three hours while two more activists secured themselves to the active building site at the corner of Manhattan and Montrose avenues at around 9 am, protesting the utility company's seven-mile fossil fuel pipe.
"They don't care about us. They never asked for our consent to come in here so we need to stop it because no politician is doing it for us," said Pati Rodriguez, who linked herself with a makeshift cardboard pipe to the pipeline with fellow protester Benny Woodard on Oct. 15.
About 30 protesters with groups like the No North Brooklyn Pipeline Coalition and Frack Outta Brooklyn cheered on the subterranean stunt as dozens of cops with the Special Operations and Technical Assistance Response units showed up and cordoned off the block.
The demonstrators live-streamed their underground action, while another protester held a dance session above the construction site.
Just before noon, police went down and hoisted them out, cuffing the duo along with the two other protesters who were locked against the construction fence — including local Council candidate Lincoln Restler.
Cops drove the four arrestees to the 73rd Precinct in Brownsville for trespassing onto the site, although they have yet to be formally charged, a police spokesman said. They were yet to be formally charged and were still at the eastern Brooklyn station house as of Thursday evening, a Department spokeswoman said.
Looks like Lincoln is taking a page from the de Blasio cosplay protester campaigning playbook.

As for this environmental group, where were they when this pipeline started three years ago? Why did they and most importantly Lincoln wait until the last phase of construction was happening in their neighborhood? NIMBY much?